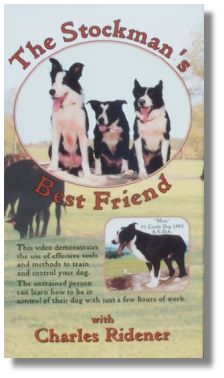 "The Stockman's Best Friend"
Training Video
This training video was made with the intended purpose to show a novice handler how a dog can be a great asset in the handling of livestock, if he is properly trained and has the ability to handle the stock.
We spent several months in the making of the movie. We did our best to put as much information by both showing and telling the best ways we have found to train the working stock dog.
We start off by showing how dogs are supposed to handle live stock and how I handle the dogs. We also give some really good examples of how dogs work both at home and away from home. While we are giving these demonstrations we are giving detailed information on why the dogs do the work they are doing.
I go into detail as to how to teach a dog to be obedient before I take him to livestock. I show how I use the Remote Training Collar for correction. The training collar is used only as tool to assist me when the dog is not doing what I have trained him to do. The video covers all aspects of training a dog to work, be obedient and gives detailed information on how to do it.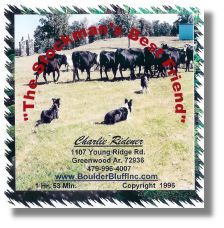 I have been working with and training dogs for over thirty years. All of our products are used daily by professional and novice handlers to assist them in the training and handling of their dogs. I use the very same procedure to train a pet or family dog. So if you want any dog to be obedient the tools and methods I use will work for you too.
Whistles / Lanyards - Used world wide by dog handlers

Whistle Commands - CD or Cassette to learn all the different sounds and commands

Training Collars - Make a hard job easy when used correctly
"The Stockman's Best Friend" Two hour training video.
| | | |
| --- | --- | --- |
| | VHS | DVD |
| PRICE: | $39.95 | $44.95 |
We Include One Whistle And Lanyard With Each Video Order.
Major Credit Cards Accepted